---
The Quaich ~ First Toasts
---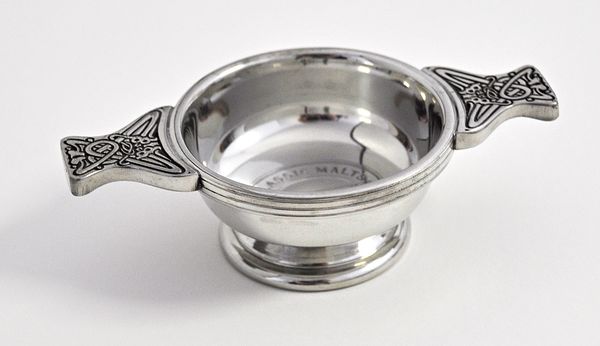 The Quaich (or Quake)
The Quaich is the "First Toast" ceremony in which the bride and groom share their first drink together and make a toast to love, devotion, and friendship. Traditionally, this is also where they celebrate and toast the coming together of their respective families/clans (remember, kinship was the basis of Celtic society). 
A man, most often the best man, approaches the couple and presents them with the Quaich (a cup). He explains the tradition of the Quaich, pours some whiskey into the cup, and invites the couple to make their toasts and to seal their wishes with a drink. 
The Quaich or cup itself is often one of great importance to the family in that it has been passed down through the generations as a symbol of good luck, happiness, and good fortune to all who drink from it. This tradition is most often seen in Scotland.

Excerpt From: Áine Minogue. "A Celtic Wedding: How to add the perfect Irish touches to your wedding."
---
An old custom found in many of the Celtic countries. The groom tosses a handful of coins into the crowd after the ceremony. It is believed to bring good luck to the newly married couple.
---
Wedding Recessional Music